Home
Frequently Asked Questions
A home inspection is a non-invasive visual examination of the condition of a home for pre-listing, pre-purchase and real estate transaction inspections.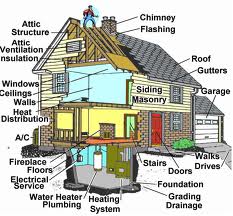 What is A HOME INSPECTION?
An inspection is essentially a visual snapshot of a home's condition as it exists at the time of the inspection, and that condition is described in a comprehensive written report.
An inspection consists of a non-invasive physical examination of a home's systems, structures and components intended to identify material defects that exist at the time of the inspection. The heating and cooling equipment is activated along with operating plumbing fixtures, testing accessible electrical outlets and fixtures, and operating a representative sampling of doors and windows. A visual inspection of the roof, crawl spaces, walls and drainage adjacent to the home are included.
An inspection is NOT any of the following:
* not a code inspection
* not a appraisal
* not a pest control certification
* not a warranty
* and not an insurance policy
So Why Should I Get A Home Inspection?
As a seller, if you have owned your property for a period of time, an inspection can help identify potential problems and recommend preventive measures, which might avoid future expensive repairs. There is no such thing as a home that is too new or too well built to benefit from a professional inspection. Many of the problems frequently encountered after a new owner moves in are a routine discovery for a qualified inspector.
As a buyer, the purchase of a home or commercial building is one of the largest single investments you will ever make. You should know as much as possible, both indoors and out, in terms of current and future repairs and maintenance. After the property inspection, you should have a much clearer understanding of the property you are about to purchase, and be able to make your decision confidently.
Can I Inspect The Building Myself?
Sure, but even the most experienced builder or homeowner lacks the knowledge and expertise of professional inspectors who have inspected many homes and buildings in their career. A home inspector is more familiar with the critical elements of construction and with the proper installation, maintenance and inter-relationships of these elements.
Most buyers find it difficult to remain completely objective and unemotional about the building they really want, and this may lead to a poor assessment. The seller might find it difficult to remain completely objective and unemotional about the building they have owned or lived in for a period of time. An inspection by a qualified home inspector may provide both seller and buyer a comprehensive, non-biased, third party review of the property.
Should I Attend The Inspection?
It is not necessary for you to be present for the inspection, but it is a good idea.
Can a Building "Fail" The Inspection?
No. A home inspection is simply a visual examination into the current condition of a property. It is not an appraisal, an insurance policy, or a Municipal Code inspection. An inspector, therefore, will not pass or fail a building, but will simply describe its condition and indicate which items may be in need of minor or major repairs or replacement.
Does Everything Wrong With The House Have to be Repaired?
A home inspection report is not intended to be a "to do" or repair list for the home seller. Sellers are not obligated to repair conditions noted in the report except where the law might apply, nor are they required to produce a flawless house. With a home inspection, potential repair items identified to both parties may become subject to negotiation.
Do You Maintain Membership in a Professional Home Inspector Association?
Yes. There are many state and national associations for home inspectors. To see our membership ID's see (Credentials), and we encourage you to perform whatever due diligence you deem appropriate.
Do You Participate in Continuing Education Programs to Keep Your Expertise up to Date?
Yes, One can never know it all, and the inspector's commitment to continuing education is a good measure of his or her professionalism and service to the customer. At Eastridge Home Inspections, we value the need for continuing education so we can make sure we provide you with the most accurate and current assessment of your new dream home. We know this is especially important in cases where the home is much older or includes unique elements requiring additional or updated training.
In Conclusion:
An inspection is a visual examination of the structure and systems of a building. If you are thinking of buying a home, condominium, mobile home, or commercial building, you should have it thoroughly inspected by an experienced and impartial professional home inspector.