Home
How long does the course take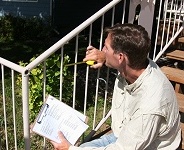 The Basic Home Inspection Course is rated at 90 hours. This rating is for someone without any experience and ultimately, the time it takes will vary depending on your experience level coming into the course, and just how quickly you want to finish the course.
You also get the 32 hour Advanced Home Inspection Course along with the Basic Course and altogether, we usually estimate about 2-3 weeks for someone to get through the course who is working at it pretty steadily.
Get certified in as little as 2-3 weeks!
Frequently Asked Questions